Delta Protection Commission Meeting
September 21, 2023@5:00 pm

-

7:00 pm
The Delta Protection Commission was created by the Delta Protection Act of 1992 (Act), codified in the Public Resources Code and most recently amended in November 2009.
The Act declared that the Delta is a natural resource of statewide, national, and international significance, containing irreplaceable resources, and that it is the policy of the State to recognize, preserve, and protect those resources of the Delta for the use and enjoyment of current and future generations, in a manner that protects and enhances the unique values of the Delta as an evolving place.
The Commission is a forum for Delta residents to engage in decisions regarding actions to recognize and enhance the unique cultural, recreational, and agricultural resources of the Delta. The Commission is also guided by regulations found in the California Code of Regulations, Title XIV, Division 9.
The Commission meets six times a year, in odd months, and the September 2023 meeting will be held Sept. 21 at 5 p.m. at The Village West Marina and Resort in Stockton.
The agenda is available below, and here in PDF form: Agenda in English (PDF) | Agenda de la Comisión de Protección del Delta, en español (PDF). This agenda packet (PDF) includes staff reports and available presentations.
PUBLIC NOTICE AND MEETING AGENDA
Delta Protection Commission
Thursday, September 21, 2023
5 p.m. to 7 p.m. (End time of the meeting is approximate)
Village West Marina and Resort
6649 Embarcadero Drive
Stockton, CA 95219
1. Call to order and Flag Salute
2. Welcome & Roll Call
3. Public Comment – an opportunity for members of the public to address the Commission regarding items not on the agenda
4. Report on Delta Stewardship Council Activities – Chair Diane Burgis
5. Commissioner Comments/Announcements
Consent Agenda
6. Consider Approval of Draft July 20, 2023 Meeting Minutes
Regular Agenda
7. National Heritage Area Management Plan update – Blake Roberts
8. Receive Executive Director Report – Bruce Blodgett, Executive Director
9. Receive Delta as Place Report – Jeff Wingfield, Port of Stockton
10. Receive Delta Protection Advisory Committee (DPAC) Report – Anna Swenson (DPAC Chair)
11. Consider amending DPAC Charter to add one tribal representative and one additional public member (PRC § 29753) – Bruce Blodgett, Executive Director
12. Bagley-Keene Training – Carlos Mejia (DOJ Attorney)
13. Adjourn
Do you have a change request or a Delta event to add to our events calendar? Please let us know – send an email to submit@delta.ca.gov or call 916-375-4800.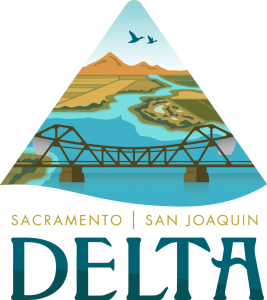 Learn more about events, places to go, and things to do in the Delta at VisitCADelta.com. Also sign up for the Delta Happenings weekly email to stay up-to-date with all the information you want, including community events and agency meeting information.