Welcome to the Delta Protection Commission
The Delta Protection Commission is committed to the protection and health of the Sacramento-San Joaquin Delta in California. We protect, maintain, enhance and enrich the overall quality of the Delta environment and economy. We do this with a focus on agriculture, heritage, recreation, and natural resources while remaining mindful of the importance of the Delta to all Californians. Valuing the needs of the Delta as well as the needs of the State is fundamental to achieving the Commission's vision: an ideal synthesis of cultural, ecological and agricultural values in a sustainable, healthy and celebrated way of life.
---
Commission Meeting Calendar
Thursday, March 19, 2020
5:30 PM
Stockton, CA
View upcoming and past Commission meetings, including agendas, associated documents, meeting minutes, and audio archives.
---
What's New
See our updates below, browse our events calendar, and sign up for Delta Happenings to stay up-to-date with all the information you want, including community events and Delta agency meeting information.
Winter 2020 Delta Voice
The Winter 2020 Delta Voice (PDF) is here! In honor of the Delta's new NHA status, we invite you to take a look back at a few of our past Delta Voice articles, which share a small slice of the region's agricultural and industrial heritage, and the cultural and artistic landscapes that helped build, and help celebrate, this incredible region.
Commission Meeting Audio Now Online
Commission meeting audio from the November 21, 2019 Delta Protection Commission meeting is available online.
President Signs Bill Establishing Sacramento-San Joaquin Delta National Heritage Area
On March 12, 2019, President Trump signed the John D. Dingell, Jr. Conservation, Management, and Recreation Act, a large public lands bill that includes the establishment of the Sacramento-San Joaquin Delta National Heritage Area (NHA). The Commission will be the local coordinating entity for the Delta NHA and has three years to prepare a management plan. See the Delta National Heritage Area webpage for more information.
Aquatic Weeds
The California State Parks Division of Boating and Waterways is issuing updates on their ongoing aquatic weed control programs. Delta residents and businesses are encouraged to sign up for their aquatic weed control updates to stay informed.

Twitter @CA_DPC
3 days ago
Delta Voice - Winter 2020

Take a look back at a few of our past articles, which share a small slice of the region's ag and industrial heritage, and the cultural and artistic landscapes that helped build, and help celebrate, the region.

Read it here: https://t.co/J68ZUCE94N https://t.co/wm5Iextznz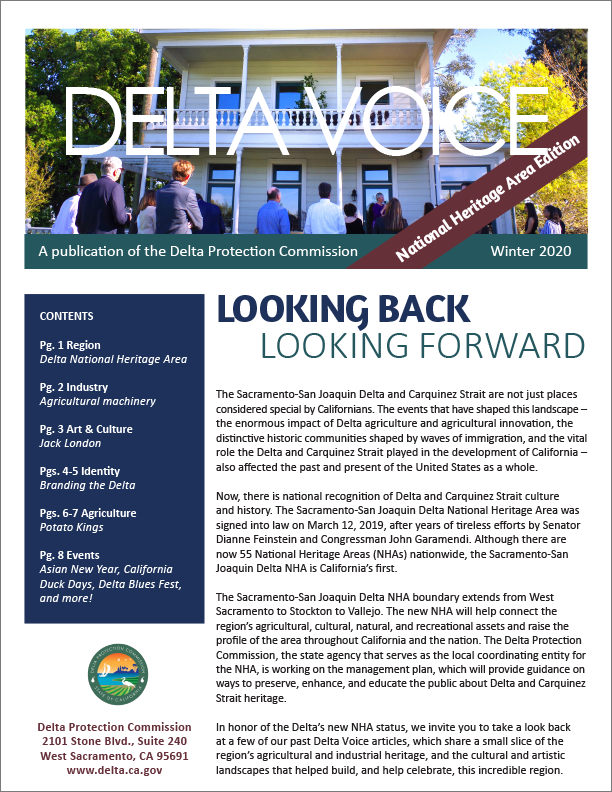 2 weeks ago
Join us this Thurs. (1/16) at 5:30 PM for the next Commission meeting at Oakley City Hall. The agenda and associated documents are available here:
https://t.co/IVkyn6PmuP https://t.co/MlurJI61ed