Welcome to the Delta Protection Commission
The Delta Protection Commission is committed to the protection and health of the Sacramento-San Joaquin Delta in California. We protect, maintain, enhance and enrich the overall quality of the Delta environment and economy. We do this with a focus on agriculture, heritage, recreation, and natural resources while remaining mindful of the importance of the Delta to all Californians. Valuing the needs of the Delta as well as the needs of the State is fundamental to achieving the Commission's vision: an ideal synthesis of cultural, ecological, and agricultural values in a sustainable, healthy, and celebrated way of life.
---
Commission Meeting Calendar
Thursday, November 18, 2021

The agenda will be posted 10 days prior to the meeting and associated documents will be posted 7 days prior to the meeting.
View upcoming and past Commission meetings, including agendas, associated documents, meeting minutes, and audio archives.
---
What's New
See our updates below, browse our events calendar, and sign up for Delta Happenings to stay up-to-date with all the information you want, including community events and Delta agency meeting information.
Delta Leadership Program Nominations
The nomination period for the Delta Leadership Program is now open! Please nominate (self-nominations are accepted) individuals whom you consider potential or emerging leaders in the Delta community, and who would find this kind of top-level development and networking opportunity to be valuable. We encourage nominations from all walks of Delta life – agriculture, law enforcement, local government, non-profit organizations, local business, tourism and hospitality sectors, among others. The closing date is November 19, 2021. For more information and the nomination packet, visit the Delta Leadership Program webpage.
Delta Heritage Forum
The Delta Heritage Forum is on Wednesday, November 3, 2021! The Forum is a free, full-day event focused on efforts to preserve and tell Delta stories, opportunities for partnerships and collaboration, and networking. The focus this year will be on the NHA Management Plan. Invitees will include cultural organizations, federal, state, and local officials, business and civic organizations, and those interested in Delta heritage. Registration and more information are available on the Delta Heritage Forum event webpage.
Commission Meeting Video Now Online
Commission meeting video from the September 16, 2021 Delta Protection Commission meeting is available online. All past Commission meeting videos are available on our YouTube channel.
Summer 2021 Delta Voice
The Summer 2021 Delta Voice (PDF) is here! In this issue, we're telling stories about the Delta's past including the history of baseball and prisoner of war camps. We are also talking about growing sod in the Delta during times of drought, plus the economic status of recreation and tourism in the region.
Economic Sustainability Plan (ESP) Recreation and Tourism Chapter Update
Initiated in 2019, the ESP Recreation and Tourism chapter update includes a review of recreation and tourism studies completed after 2012 and the results of five focus groups held between March and April 2020. The updated chapter includes best available current data, analysis of visitation, economic activity, and emerging recreation and tourism trends.
For more information and to view the full ESP, visit our Regional Economy webpage.
2020 Annual Report
We are proud to announce the release of the 2020 Annual Report. It is our mission to support agriculture, recreation, cultural heritage, and natural resources in the Delta. We continue our dedication to that mission through the ongoing advancement of our Strategic Plan (Vision 2030) while being adaptable to emerging challenges and opportunities.
Sacramento-San Joaquin Delta National Heritage Area
On March 12, 2019, the John D. Dingell, Jr. Conservation, Management, and Recreation Act, a large public lands bill that includes the establishment of the Sacramento-San Joaquin Delta National Heritage Area (NHA), was signed into law. The Commission will be the local coordinating entity for the Delta NHA and has three years to prepare a management plan. See the Delta National Heritage Area webpage for more information.
Aquatic Weeds
The California State Parks Division of Boating and Waterways is issuing updates on their ongoing aquatic weed control programs. Delta residents and businesses are encouraged to sign up for their aquatic weed control updates to stay informed.
Sacramento-San Joaquin Delta Primary and Secondary Zones
Print Delta Map (PDF)
Twitter @CA_DPC
The Delta Heritage Forum is on Wed., Nov. 3 from 2:00 PM to 7:30 PM! The Forum is a free event focused on efforts to preserve and tell Delta stories, opportunities for partnerships and collaboration, and networking. Learn more and register below. https://t.co/jkpnRjdpU0
📷 Delta Photo of the Week Image by Kelly M. Grow

"Construction crews work into the night on the temporary emergency drought barrier in the West False River in the Sacramento-San Joaquin Delta in Contra Costa county." - @CA_DWR

What else is going on? See below ⬇️ https://t.co/bjA21u8mSj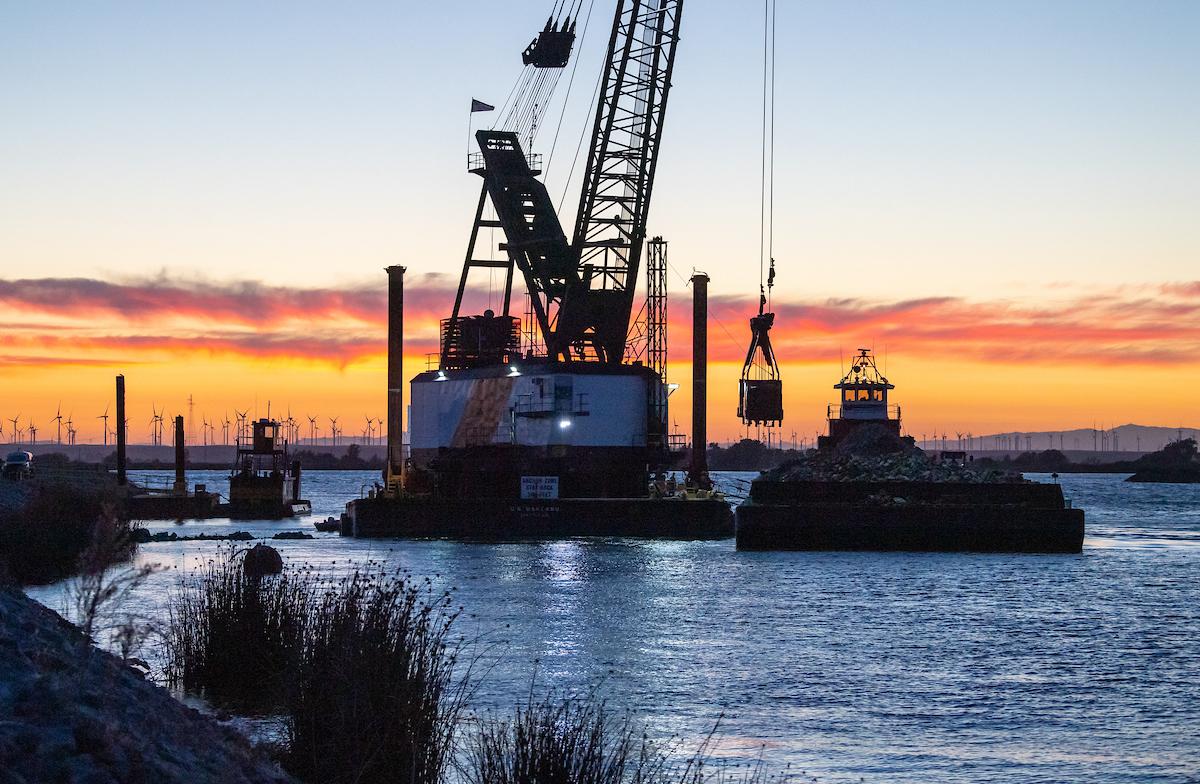 Have you heard the news? Stay updated with #DeltaHappenings! In this week's email:

📢 Delta Leadership Program nominations open

📢 Thank you to Delta Waterway Cleanup volunteers

📢 The Delta in the New York Times

📢 Harmful Algal Blooms update

https://t.co/68L8Hju66K https://t.co/xvLOB6lLFK